DE HOOGHE, Romeyn (1645 - 1708). L Epiphane du Nouveau Antichrist. [?Haarlem: 1689].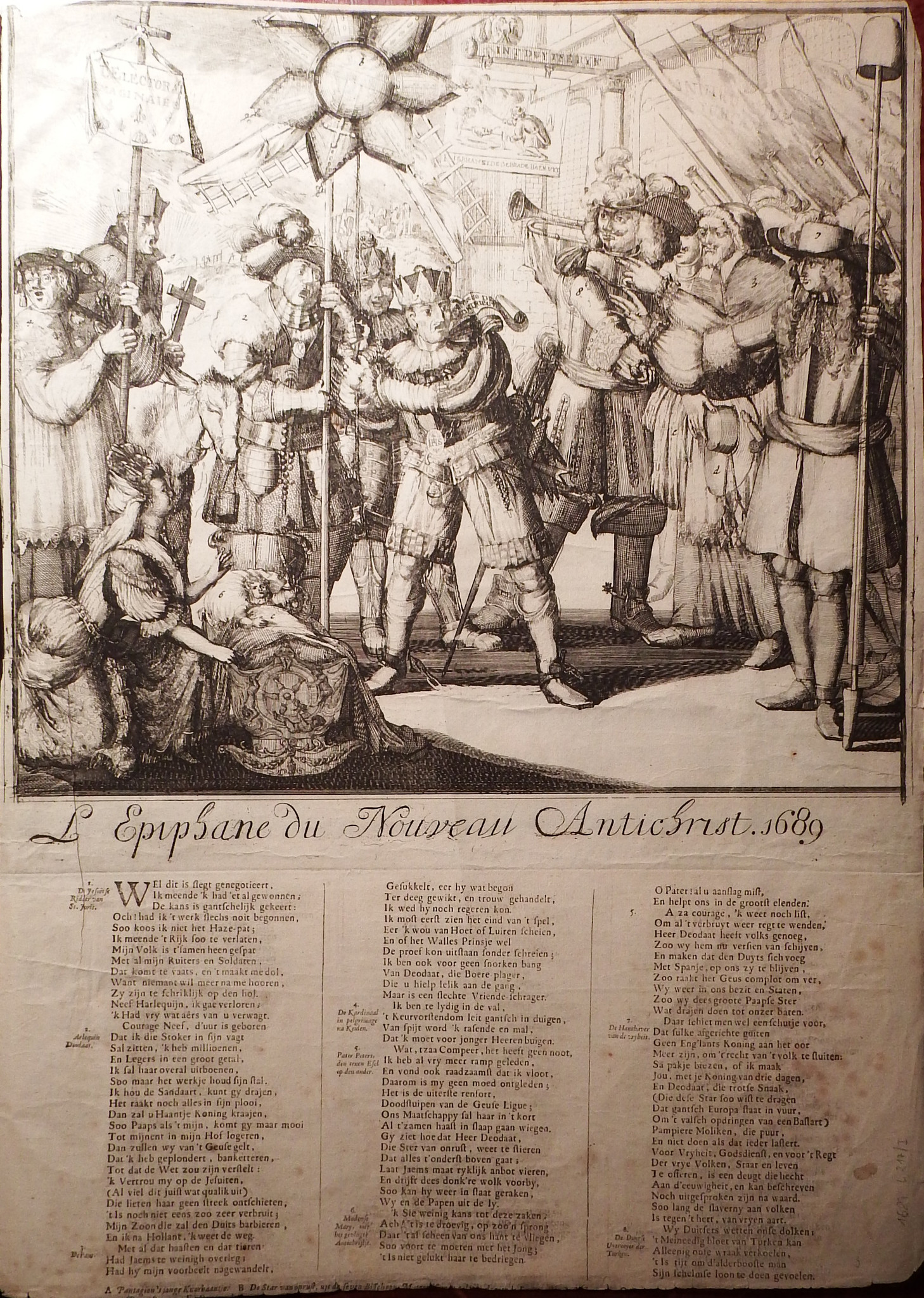 DE HOOGHE, Romeyn (1645 - 1708). L Epiphane du Nouveau Antichrist. [?Haarlem: 1689].
DE HOOGHE, Romeyn (1645 - 1708). L Epiphane du Nouveau Antichrist. [?Haarlem: 1689].
Broadside (22 x 16 inches), illustrated with a fine engraved plate (14 6/8 x 16 inches), above the headline "The Arrival of the Anti-Christ", and three columns of letterpress (edges close cropped affecting the last line of letterpress, a bit spotted, early repair on verso). 
A broadside satirising the birth of the Prince of Wales (James Edward Stuart, the future Old Pretender), the fall of James II and the beginning of the War of the Grand Alliance, with an etching by de Hooghe. In the centre three figures wearing armour and paper crowns, James II (1), Louis XIV (2) and the Grand Dauphin (a), enact the Three Kings in a traditional Dutch Epiphany procession holding aloft the "Star of the Kings" (b), here composed of a windmill, and an orb encircled by the mitres of the seven bishops who opposed James's declaration of indulgence. James wears a Jesuit's biretta under his paper crown, a holy water stoop, a rosary, a sword at his side and shackles on his ankles; he pulls on a rope attached to the Star to keep it in motion. On the right in a centre of group of figures, the Pope (3) holds a cardinal's hat (d) for Father Petre and swaddling clothes (e) for the young prince. On the left, Cardinal von Fürstenberg (4), shown as if on pilgrimage to Cologne, holding a cross with a banner reading "L'Elector Imaginaire", presumably a reference to the newly appointed Archbishop-Elector Joseph Clemens von Wittelsbach. Behind him is Father Petre (5) riding on a blind donkey and carrying a crucifix. In the left foreground, Mary of Modena kneels rocking a cradle (6) in which lies the Prince of Wales (c) playing with a toy windmill; the foot of the cradle is elaborately carved with a wheel of fortune to which cling naked children. On the right, the pope is restrained by William III (7), who carries a lance with the cap of liberty, and Leopold I (8); behind them is a group of soldiers with guns, lances, a trumpet and a flag labelled, "Inutrumque Turcam" and beyond a German inn with the sign of the roasted cock. In the distant background, to left, are ruined catholic churches and chapels (f), a row of gibbets and the sun setting on the papacy (9).
Provenance: From the Krown & Spellman Collection, their sale, Heritage, 4th November, 2015 lot 45243
The first political iconographer of the Netherlands and its first great caricaturist...Romeyn de Hooghe was the most significant and prolific Netherlandish engraver in the second half of the seventeenth century (The Getty Institute)
Romeyn de Hooghe was born in Amsterdam in 1645 "and worked there until c.1680-1682, when he moved to Haarlem, where he died in 1708. For several Netherlandish provinces, he created interior architectural paintings and other works. In 1662 De Hooghe was invited by Adam Frans van der Meulen (1632-1690) to Paris, where he etched the baptism of the Dauphin in 1668. There he met King Jan III Sobieski of Poland and was knighted by him in 1675.
"De Hooghe painted, engraved, sculpted, designed medals, enameled, taught drawing school, and bought and sold art as a dealer. During the 1690s he made sculptures for the palace of Het Loo (1689-1692), designed and etched triumphal arches and medals for William III's entry into the Hague (1691), and designed the Haarlem market festival decorations for the peace celebration after the capture of Naumur (1695). His political, legal, and economic interests are evident in his writings: Schouburgh der Nederlandsche Veranderingen (1674), Æsopus in Europa (1701), Spiegel van Staat des Vereenigde Nederlanden (1706), and Hieroglyphica of Merkbeelden der oude Volkeren (1735), all of which he also illustrated. He was well-educated and may have attended law classes at a university in Harderwijk or Leiden.
"De Hooghe's earliest print, after Nicolas Berchem, was made around 1662. He created about 3500 images, most after his own designs, some after other artists, for himself and other authors, publishers, and printers. His plates were often retouched and adapted for later events, sometimes by De Hooghe, sometimes by others. He etched allegories and mythological scenes, portraits, caricatures, political satires, historical subjects, landscapes, topographical views (especially of Netherlandish cities), battle scenes, genre scenes, title pages, and book illustrations. From 1667-1691 he illustrated various newspapers: Hollandsche Mercurius, Princelycke almanach, Orangien Wonderspiegel.
"The first political iconographer of the Netherlands and its first great caricaturist, De Hooghe was closely associated with William of Orange. He repeatedly caricatured James II and Louis XIV, sometimes using pseudonyms on his most audacious images. He was an expressive master of physiognomy; and his original, lively style displayed the baroque fashion for spectacular and allegorical fantasy. Romeyn de Hooghe was the most significant and prolific Netherlandish engraver in the second half of the seventeenth century" (Anne-Marie Schaaf, The Getty Research Institute, Research Library). BM Satires 1167; Hollstein 158; Muller 1863-1882 2759a