CALLOT, Jacques (1592-1635). Portrait of Giovanni Domenico Peri. [France], 1620.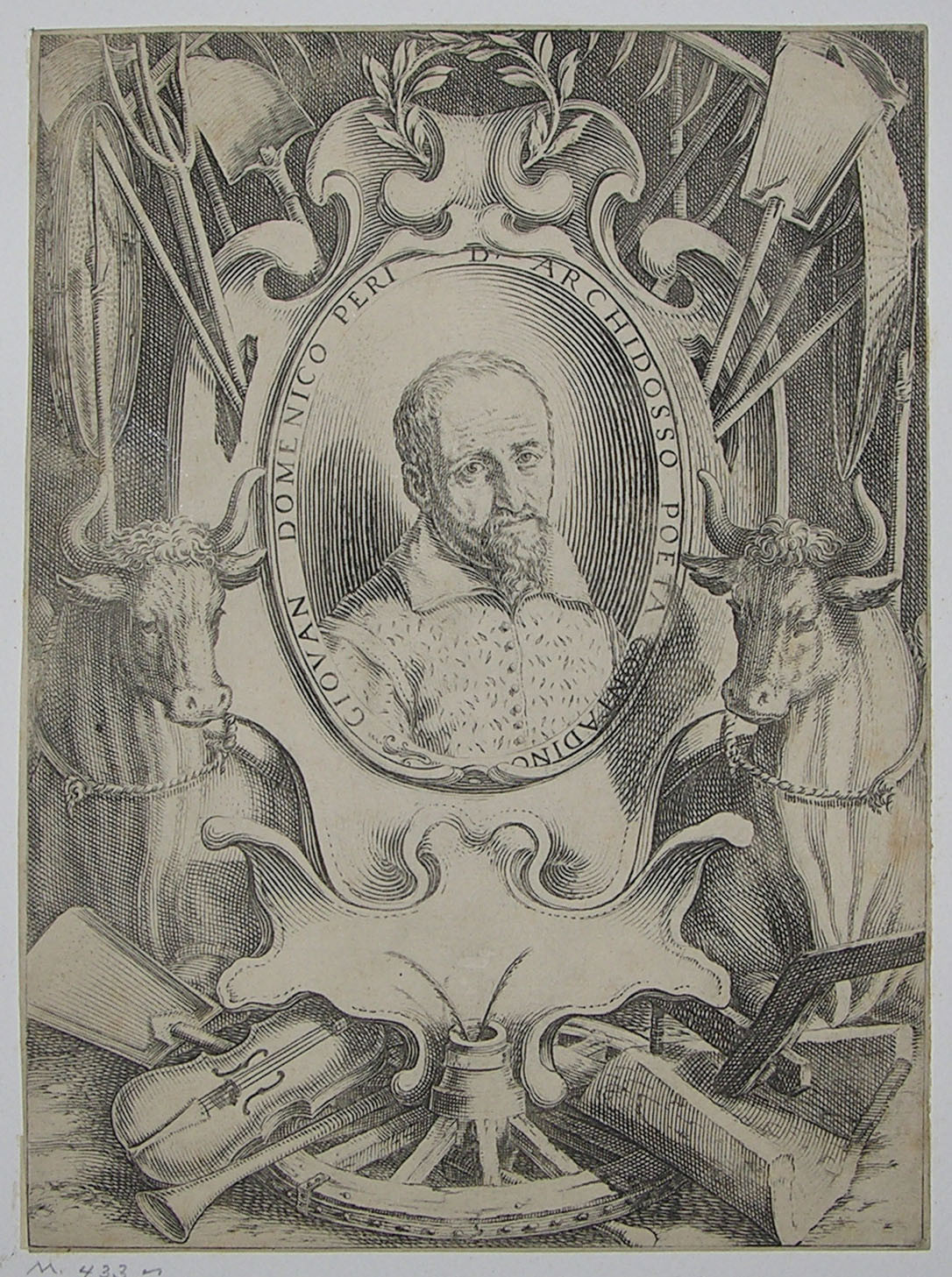 CALLOT, Jacques (1592-1635). Portrait of Giovanni Domenico Peri. [France], 1620.
CALLOT, Jacques (1592-1635). Portrait of Giovanni Domenico Peri. [France], 1620.
$4,500.00
Single sheet, float mounted and framed, (sheet size: 7 7/8 x 5 7/8 inches; framed size: 13 x 11 inches). Extremely fine etched portrait of Giovanni Domenico Peri, showing the threadlines, with the watermark of a winged eagle with three prominent tail feathers (a bit toned, remains of original mounting guard on the verso of the right hand edge).

First edition, first and only state. L. 305. M. 433. Also known as "Le Jardinier," or The Gardener, this is a portrait of Giovanni Domenico Peri, the Italian farmer-poet. It shows him at three-quarters profile, facing slightly to the right, and bare-headed. The bust is surrounded by an oval frame topped with a laurel wreath and sitting on a rectangular base. On either side is a cow and agricultural tools above, while at the bottom there is an inkpot emerging from the center of a wagon wheel, with a violin and trumpet on the left, each of these adornments highlighting an aspect of his dual nature as both farmer and man of letters. This portrait is often found after the frontispiece of Peri's poem "Fiesole distrutta."

"Giovanni Domenico Peri (c. 1590-1666) is an interesting figure who has not yet been adequately studied. According to seventeenth-century biographical sources, he received a humanist education and at first devoted himself to the arts. He also appears briefly in mid-century as director of a printing and publishing enterprise which produced sixteen titles between 1648 and 1650. This enterprise was financed by Anton Giulio Brignole Sale (1605-1665), a leading Genoese politician and intellectual, but came to an abrupt end in 1650 when Brignole Sale decided to become a Jesuit. The editions were signed with the usual formula: 'Sotto la cura/direzione di Gio. Domenico Peri,' which suggests that Peri's functions in this organization were more managerial than technical. His claim to fame rests on a work on business practices, 'Il negotiante,' of which the first volume appeared in Genoa in 1639 and the second in 1647" (Fahy, "Paper Making in Seventeenth-Century Genoa: The Account of Giovanni Domenico Peri").

Callot "was one of the first great artists to practice the graphic arts exclusively. His innovative series of prints documenting the horrors of war greatly influenced the socially conscious artists of the 19th and 20th centuries.

"Callot's career was divided into an Italian period (c. 1609-21) and a Lorraine (France) period (from 1621 until his death). He learned the technique of engraving under Philippe Thomassin in Rome. About 1612 he went to Florence. At that time Medici patronage expended itself almost exclusively in feste, quasi-dramatic pageants, sometimes dealing in allegorical subjects, and Callot was employed to make pictorial records of these mannered, sophisticated entertainments. He succeeded in evolving a naturalistic style while preserving the artificiality of the occasion, organizing a composition as if it were a stage setting and reducing the figures to a tiny scale, each one indicated by the fewest possible strokes. This required a very fine etching technique. His breadth of observation, his lively figure style, and his skill in assembling a large, jostling crowd secured for his etchings a lasting popular influence all over Europe.

"Callot also had a genius for caricature and the grotesque. His series of plates of single or dual figures-for example, the Balli di Sfessania ("Dance of Sfessania"), the Caprices of Various Figures, and the Hunchbacks-are witty and picturesque and show a rare eye for factual detail.

"With a few exceptions, the subject matter of the etchings of the Lorraine period is less frivolous, and Callot was hardly employed at all by the court at Nancy. He illustrated sacred books, made a series of plates of the Apostles, and visited Paris to etch animated maps of the sieges of La Rochelle and the Île de Ré. In his last great series of etchings, the "small" (1632) and the "large" (1633) The Miseries and Misfortunes of War, he brought his documentary genius to bear on the atrocities of the Thirty Years' War. Callot is also well known for his landscape drawings in line and wash and for his quick figure studies in chalk" (Encyclopedia Brittanica). Lieure 305. Meaume 433.
72MMS261