Illustrationes florae Novae Hollandiae, sive icones generum quae in Prodromo florae Novae Hollandiae et insulae van Diemen descripsit Robertus Brown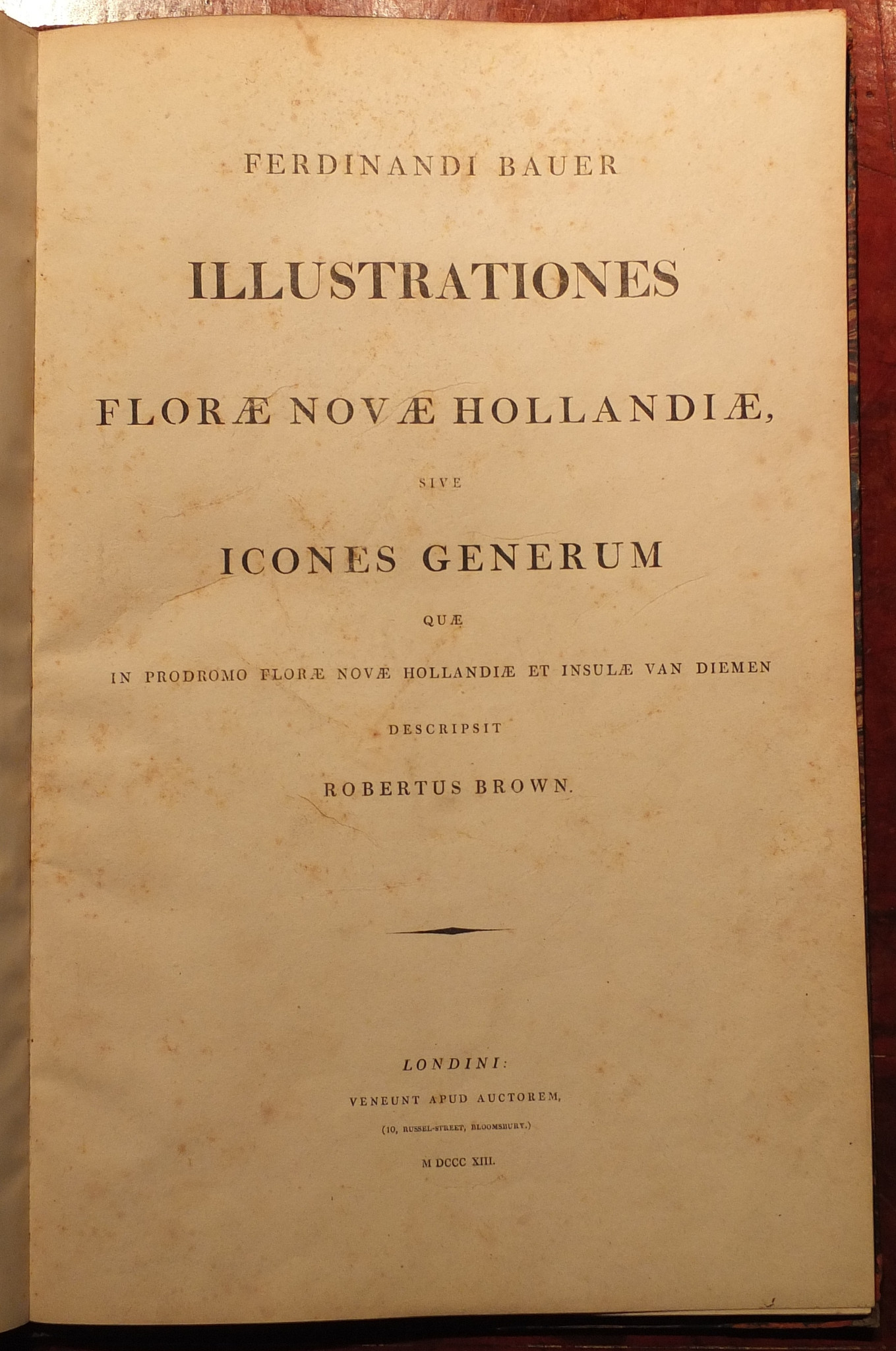 Illustrationes florae Novae Hollandiae, sive icones generum quae in Prodromo florae Novae Hollandiae et insulae van Diemen descripsit Robertus Brown
BAUER, Ferdinand (1760-1826). Illustrationes florae Novae Hollandiae, sive icones generum quae in Prodromo florae Novae Hollandiae et insulae van Diemen descripsit Robertus Brown. London: apud auctorem, [1806-] 1813.
$55,000.00
3 parts in one volume. Folio (16 x 10 2/8 inches). 15 engraved plates, including one folding (occasional light spotting, mostly confined to margins but heavier to the title-page and to the folding plate, folding plate trimmed close just touching image). 19th-century half morocco, marbled paper boards, all edges gilt (extremities very worn).
Provenance: a few plates with penciled annotations.
FIRST EDITION. EXTREMELY RARE, ONE OF FEWER THAN 50 COPIES PUBLISHED, and one of only a handful of complete copies to come to auction in the last 35 years.
According to the labels on a coloured copy sold at auction in 2004, the work was issued with the plates 'plain' (uncoloured) for 5 or 7 shillings per part, or coloured for £1/11s/6d per part.
"In 1801 Bauer went as natural history artist on the coastal survey of New Holland carried out under the command of Captain Flinders in H.M.S. Investigator. Robert Brown was the naturalist on this expedition, and both he and Bauer went on the recommendation and at the expense of Sir Joseph Banks. In 1803, after the Investigator was condemned as unseaworthy Captain Flinders decided to return to England to obtain another ship to complete the expedition. Bauer and Brown, however, continued their travels in Australia, and finally returned to England in 1805 with several thousands of botanical specimens and many hundreds of sketches of plants. In 18[06] Bauer began to publish his Illustrationes florae Novae Hollandiae, a work which did not meet with sufficient encouragement to be continued after the third number' (Henrey II, p.195).
Ferdinand Bauer's elder brother, Franz Andreas, later explained that the project was abandoned due to Ferdinand's inability to find competent engravers and colourists to complete it, forcing Ferdinand's return to his native Austria. According to Stafleu & Cowan, fewer than fifty copies were published. An unpublished sixteenth plate is in the BM(NH) collection of proofs of the work. Dunthorne 27; Ferguson 549 (noting 5 copies; 2 coloured); Great Flower Books, p.49; Henrey II, p. 195; Nissen BBI 96; Pritzel 493; Stafleu & Cowan 362.